Clear aligners are transparent trays made from special medical grade plastic material used to straighten teeth. They use a gradual and gentle force to direct the teeth into there specified position. These are virtually invisible and removable and are customized for each patient using a digital scan.
Advantages of clear aligners over braces
 Nearly invisible – it is virtually invisible means you can always smile with confidence as compared to traditional braces where the wire and metal brackets can be seen.

 Removable – aligners are made from a flexible medical grade plastic material (smart track for Invisalign) which makes it super easy to remove and put on unlike traditional braces which are fixed. This allows you to enjoy your favourite foods any time you want.

 Lesser pain – aligners ensure a very gentle and gradual force leading to effective tooth movement throughout the treatment. (smartstage and smartforce technologies of Invisalign enhance this feature more.) in comparison the traditional braces may poke or cause iiritation and paun.

 Clearer timelines – it allows youn to visualize every stage of the treatment giving you a clearer picture of the treatment duration where as traditional braces can only give an approximate time duration. It also helps you visualize the final result at the beginning of the treatment which cannot be done with trational braces.

 Better oral health – since aligners are removable it allows you to brush and floss normally whereas in traditional braces it becomes difficult to clean in between the brackets leading to plaque accumulation and poor oral hygiene.
What procedure is followed for clear aligners?
 Digital scan – it starts with digital scanning of your teeth to capture a 3D image of the teeth.

 Treatment plan – special softwares are used to process the 3D data from the scan and map the shift in the tooth. Invisalign uses clinchek (based on the data of 10 million smiles) to come up with an accurate plan for tooth movement.

 Patient approval – seeing is believing. So the final result or outcome is shown to the patient. Post approval from them the aligners go for manufacturing.

 Attachment placement – in certain cases to increase efficiency of tooth movement the orthodontist places attachments which are composite(tooth colored filling) material of different shapes and sizes attached to the tooth. These may feel as bumps but are not visible as they are completely color matched to your teeth.

 Wearing of aligners – once the custom made aligners arrive the patient has to simple wear them for 20-22 hours a day. Each aligner is worn for 7-10 days depending on the porthodontists prescription.
Care to be taken during aligner wear
The patient has to wear the trays for a minimum of 20 hours a day.

Trays are to be removed only while eating drinking and brushing.

Do not drink anything except water at room temperature with trays on.

Eating or drinking hot items with tray on can lead to distortion and hence is prohibited.

When you are not wearing the trays, they should be placed in the box given by the orthodontist to avoid any damage to them.

Trays normally snap into place and fit snugly but incase of difficulties chewies provided by the orthodontist can be used.

Trays should be cleaned with a toothbrush and normal water. Everytime you wear the tray make sure you gargle your mouth as well as rinse the tray with water before wearing.
FAQ'S
Will the treatment be painful?
Most people experience tooth soreness for a few days after every new aligner or stage.
The soreness gradually goes away a couple of days.
Will wearing the aligners affect my speech?
Since the aligners fit snugly onto your teeth they become a part of your boday hence almost no speech impairment is observed.

However a slight lisp may be noticed temporarily for a day or two till your tongue gets adjusted to your aligner.
Are there any food restrictions?
Unlike traditional braces aligners are removed while eating hence there are no restrictions.

You can eat all your favourite foods at anytime.
Can I drink tea or cold drinks with my aligners on?
No. you can only drink water that too at room temperature.

Drinking extremely hot or cold beverages can lead to distortion of your aligners hence not allowed.
Can I chew gum with my aligners?
No, the gum will stick to the aligners and cause damage.

It is not recommended to eat anything with aligners on
How to clean my aligners?
You can simply use a brush and water.

It is not recommended to use any mouthwash or denture cleaners.

U can use the cleaning liquid given to you by your orthodontist.

Also make sure you rinse your aligner with water every-time before wearing.
Why do I have bumps and ridges on my aligners?
The orthodontist uses special attachments on the teeth which helps grip the aligners on the tooth properly.

The bumps on the tray grip the attachments on the  teeth.

The attachments are composite(tooth colored filling) bonded on the tooth.

Ridges are sharp indentions in the aligners.

Both bumps and ridges help teeth move in the desired position.
Ekdant
Clear Aligners in Surat
Our Shop
Our Blog
Tooth concerns as well as oral troubles are becoming a whole lot extra common nowadays.There can be numerous reasons behind it, such as absence of treatment, old age, accident, etc. Nevertheless, medical scientific research has actually created multiple techniques to deal with each concern with minimal pain. Dental crowns and also Dental bridges are among the most preferred as well as…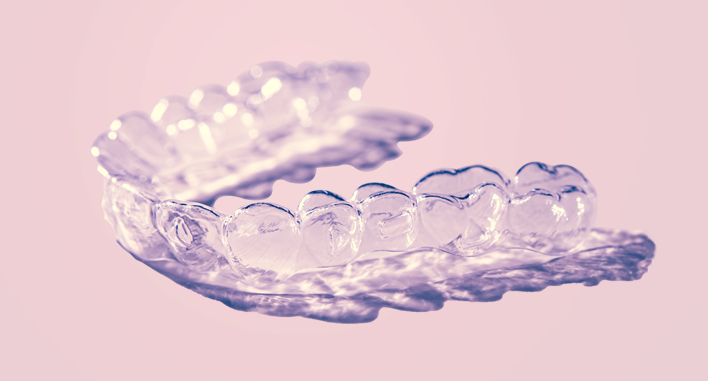 Invisalign's "invisible dental braces" system utilizes removable clear aligner trays so you can align your teeth in a very discreet way. Invisalign is ideal for treating a vast array of teeth placement troubles. Here you can read about the benefits and also disadvantages of Invisalign, including what to expect if you do pick this alternative. Exactly How does Invisalign…
Dental implants are a wonderful and regularly used option for replacing missing or damaged tooth or teeth. If you are experiencing missing teeth or damaged teethand  want to get oral implants done, you might be questioning their general safety and security as well as durability. A dental expert can assist you in making this choice of obtaining…
Monday:7:00 am – 7:00 pm
tuesday:7:00 am – 7:00 pm
wednesday: 8:00 am – 5:00 pm
thursday: 8:00 am – 4:00 pm
friday:7:00 am – 7:00 pm
saturday:Closed
sunday:Closed
Have a brief question you would like answered by one of our experts? Please use the form below: